Mrs. J.P, age 62 years came with Autoimmune dermatitis over his face, legs and hands. She was already consulting us for her complaint of rheumatoid arthritis. Dermatitis had started with itching and redness over her face and hands. She was taking cetrizine (antiallergic) and applying creams all over with no relief. This led to lot of irritation and was not feeling like talking to anybody. Leg had swelling with small boils. She even developed fever because of such severe reaction
BEFORE TREATMENT
Hand, legs, face was covered with lot of dryness, redness and oozing from patches. There was scaling of skin with intense itching. Her joints pains had aggravated (increased) along with this episode. Small bleeding points were seen due to scratching
AFTER TREATMENT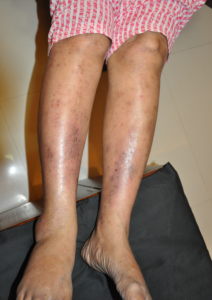 The exfoliation (scaling) became less. Intensity of itching came down. She was 50 % better in 5 days without taking any anti allergic tablet and following that the redness, itching and scaling disappeared completely. Swelling over the legs subsided. Even her joint complaints showed improvement. Overall irritation and anger due to this allergy was not there anymore
OVERALL CHANGES:
1) PHYSICALLY: Along with these improvements in acute flare up of autoimmune dermatitis there were overall positive changes seen in her rheumatoid arthritis complaint as well for which she was taking her constitutional dose (based on her personality). Her joint stiffness and pain were in control. She could perform all her daily personal and professional activities. She had terrible difficulty in walking and balancing now she can walk and climb stairs without any difficulty. Requirement of steroids and pain killers had gone down.
2) EMOTIONALLY: There was lot of anxiety related to her kids and family. That became balanced and now she no longer carried that stress.
3) AT HOLISTIC LEVEL (STATEWISE): The whole feeling of disease killing her inside leading to negative attitude of being weak and feeling suffocated deep within was no longer there. Her attitude towards the disease changed, she accepted it instead of feeling it is controlling or capturing her and started going back to her routine activities.