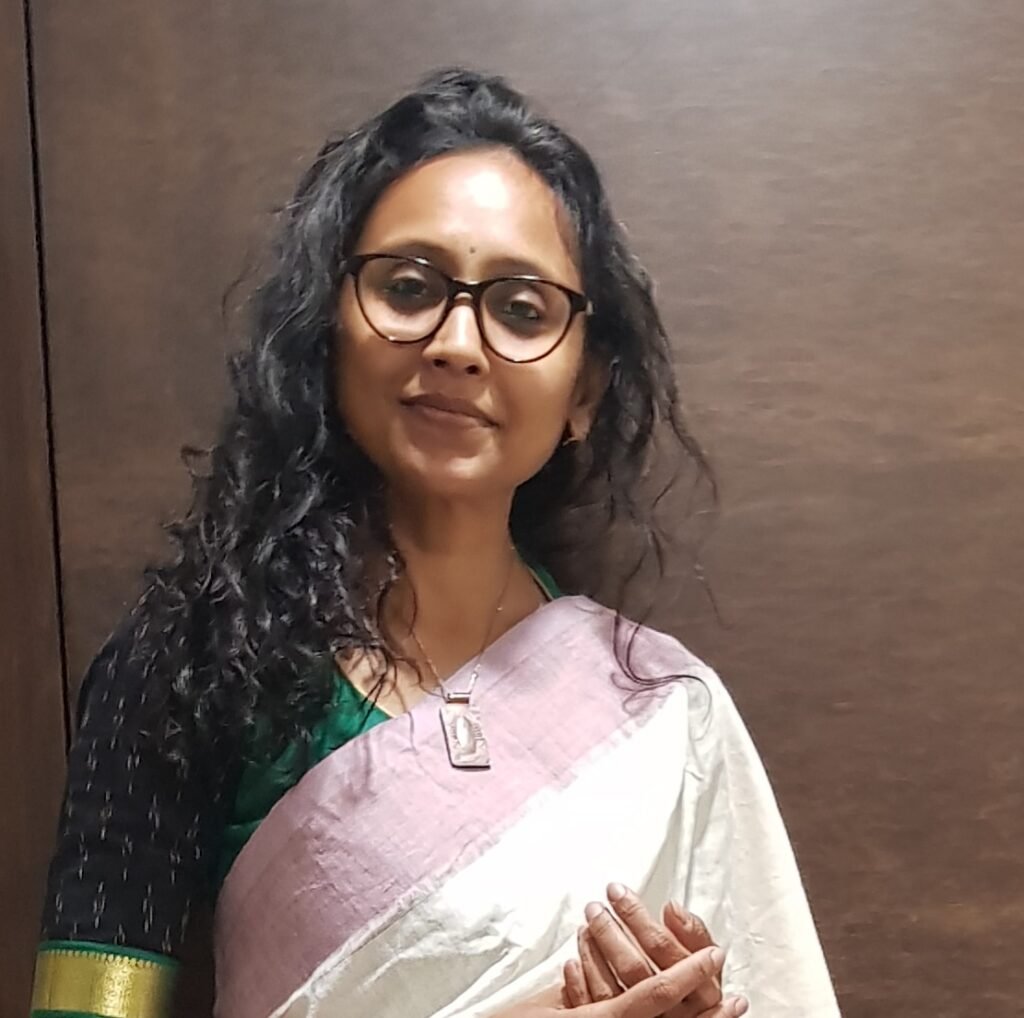 Dr. Urvi Chauhan is a co-founder of Swasthya Homoeopathic Healing along with Dr. Dinesh Chauhan and founder of Swasthya Udaan. Based in Mumbai, she is a practicing Homoeopath. Through her integrative approach (Homeopathy, Regression work, Yoga, Meditation, mindful eating and living guidance) she facilitates people take their health in their hands to ensure sustenance of health both Inner (self) as well as outer (Mother Nature). Her area of interest is to work with people facing unhealthy emotional health, relationship issues and unhealthy behavioral pattern that becomes road blocks in their life through Regression therapy, Hypnosis as other modalities along with Homeopathy.
On 24th Nov 2014, she was honored with the prestigious "Indira Gandhi Shiromani Award" by Shree Shekhar Dutta (former Governor of Chhattisgarh), Shree Bhishmapratap singh (cabinet minister) and Shree Virendra Kataria (Ex-Governor Puducherry) at New Delhi, the award function was organized by IIFS (India International Friendship Society). ON 15th April 2015, she was honored with the "Rashtriya Gaurav Award" by honorable Dr. Bhishma Narain Singh (former governor of Tamilnadu and Assam) at New Delhi.
She was interviewed by the FM Gold Radio Channel, where she gave live talks on Homoeopathy and Yoga answering various queries in the minds of the lay people concerning the same.
She has been a chief editor of The Homeopathic links for a short duration as well guest editor for the same and Interhomeopahy-an online homeopathic journal. Her successful cases have been published in various national, as well as international homoeopathic journals.
Since 2016, she has been involved with various activities of Isha foundation as an Isha meditator and Isha volunteer. She facilitates complimentary yoga sessions offered by Sadhguru for corporates, schools, colleges, etc.
TITLES PUBLISHED AND EDITED BY HER
SHE AUTHORS
AS A COMPILER
AS CREATIVE ARTIST
AS AN ORGANIZER
COOKING (Dairy/Refined/Processed/Oil/Sugar/additive free) WORKSHOPS conducted by Dr. URVI @ Swasthya Udaan
YOGA WORKSHOPS conducted and facilitated by her
INVOLVEMENT FOR ENVIRONMENT CAUSES
Feedbacks from the Patients:
TITLES PUBLISHED AND EDITED BY HER
•
Poetic Whispers:collections of Poems written by her (Book, English, soft bound, pages: 104)
From Treating to Transforming Choose Homeopathy, a designer's approach for your child(Book, English, soft bound, pages: 88)
The Scientifically Intuitive Case Witnessing Process: The Journey of Three Steps(Book, English, hard bound, pages: 305)
A Wander with A Little wonder: Child-Centric case witnessing..(Book, English, hard bound, pages: 265)
The Journey into the Human Core(Book, English, soft bound, pages: 125)
From Vital Force to Vital Sensation-—A Connecting Bridge (Set of 2 DVDs)
The Scientific and Human-Centric Case Witnessing Process (DVD)
Inner Encounter (Child Centric designer's ) diary by SWASTHYA
Various articles for patientsand homeopaths and brochures for the Swasthya Homoeopathic Healing
SHE AUTHORS
AS A COMPILER
AS CREATIVE ARTIST
AS AN ORGANIZER
COOKING (Dairy/Refined/Processed/Oil/Sugar/additive free) WORKSHOPS conducted by Dr. URVI @ Swasthya Udaan
YOGA WORKSHOPS conducted and facilitated by her
INVOLVEMENT FOR ENVIRONMENT CAUSES
Feedbacks from the Patients: