I do like the sound of your new book -all those methods of releasing the inner gift of the patient. Your book offers many ways to understand our patient, verbal or non-verbal, and is a culmination of decades of work on your part.
But what I really appreciated was seeing how you navigated the case where the client couldn't get past her conscious left brained way of relating her health, even after trying the pathway of dreams, fears, hobbies, etc. The right brain technique you used was so simple, but very appropriate for her and made all the difference. It flowed beautifully from there.
After analyzing why my emotions exaggerated and came up on the surface I mentioned the words of Dr. Dinesh that provoke this emotion: My disease became my biggest strength! I realize that I associated me and my situation with this sentence...In a later session Dr.Dinesh continued to speak for his personal experience - again the same thoughts....After the sessions, I started to make the exercise with the dark space. Brilliant results. So beautiful pictures that gave me awareness and showed my homeopathic substance that I have never thought about before. So the journey continues...and I'm sure that this will be the journey to my health!
"There is an interesting observation that children who do not learn to crawl (utilizing left and right sides of their bodies and limbs) but leap into walking (thus by-passing this developmental step) are more apt to be awkward at coordination and the mental equivalent of problem solving - where left and right working together deliver best results. It is clearly vital to connect the two. Anima and animus working together are both equally necessary for psychological health. We who matured in animus dominated Western style academia, come to the anima later, but we can catch up. Better late than never! Dinesh keeps moving forward in his development and has a knack of taking us with him. He does this with much humor, reminding us that we can do as he does, developing skills we did not know we had, whereby to intuit information that may add depth to case synthesis, as well as explore and reveal the patient's core state".
"I guess every homeopath already had the experience where he feels the remedy is the right one for his patiënt. > At that moment the head, the heart and the gut are aligned and tell you the same thing. The homeopath just knows the remedy is the right one. It is a different and deeper knowing, it goes beyond logic and rational thinking. It is the right brain at work. At the same time the patiënt feels completely understood by the homeopath. Where the homeopath and the patiënt meet, there lies the remedy. That's why this book is a huge contribution to homeopathy. Dinesh Chauhan explores this meeting point meticulously and describes many pathways to reach this point. This book is a must read for anybody as it serves both the homeopath and the patiënt. it guides the homeopath in finding the accurate remedy. It helps the patiënt to make a deep connection and understanding of his dis-eased state."
The right brain healing Workshop in Belgium
With the right brain approach, if you can find the holistic pattern of an individual and match the pattern with the pattern of the substance from the universe, that substance becomes a remedy. Then imagine matching your relationships, your job, your interest and hobbies with your individualistic holistic pattern then they too will act as a remedy, isn't it?
Everything can become a Similimum-Healing field a topic rather explained in my book for laymen,' The Holistic Car'.
When I understood this concept, the most important thing I realized was to find out what I am as an individual, to find ME, to find the Original unmodified whole ME.
Then all that I do will be naturally according to my pattern. Then my profession can become my vacation, that's the idea with which we started THE WALK to first find out our individualistic and holistic features, not with logic but with our right brain.
The aim of these activities is not to find a remedy but to know yourself, who you are in different stages of your life, if you know your pattern, your blueprint, then every activity can become centred around this individualistic design.
This helps us to know both our sides, the left logical linear side and right intuitive artistic side, they both are inside us, when the left and right both have equal control in our lives then there is balance, as you must have read in the beginning we spoke about the holistic car, where the right is in the driver's seat and the left in the navigator seat and thus it becomes the holistic car in life…
The Right brain workshop in Belgium was called –
"Meeting with my diseased self in similimum field
with right brain approach"
Step 1 – Brief about what is homeopathic principle. (Individualization + holism = similimum)
• Application of homoeopathic principles
• When we match our whole with our situation/job/relation/interest and hobbies then each becomes a remedy
• How to find those activities which bring your individual whole out?
• What are the right brain areas?
Step 2
 Various activities that we conducted during the workshop
Day 1
Activity 1 – Write a postcard to your altered self, diseased self, diseased being
Activity 2 – Internal witnessing your illness, situations, things bothering you or acute
Activity 3 – Let your disease (part or whole structure) speak to you.
See what dialogue you have with your illness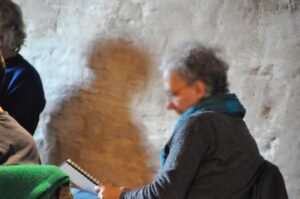 Activity 4 – What is that activity in your childhood or today which came to you naturally, which is unconditional and without any purpose?
Activity 5 – Once upon a time long long ago… make a story
Activity 6 – Night activity in Teepee Tent – One personal story from your life
Day 2
Activity 7 – Walking in the woods
Whatever touches you stand there and do internal witnessing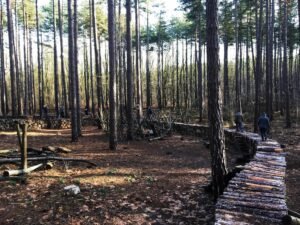 Activity 8 – Drawing with a Non-Dominant Hand
Activity 9 – Write the essence of what you understood about yourself (the central theme) running through while doing these right brain activities on an inland letter, write a letter to yourself
Step 3
Integration of right brain activities (finding, giving, making people aware of whole through various right brain activities) a group discussion.
Here we beautifully saw how many participants they could clearly see their holistic pattern through the various unconnected activities, sharing with you one of them.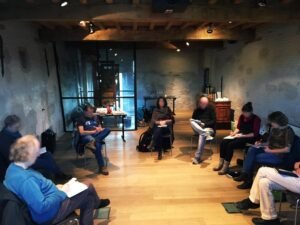 Vist the following pages too....