SWASTHYA CHILD CENTRIC DIARY (VERBAL GROUP)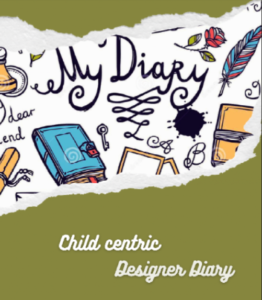 THE CONCEPT and SECTIONS OF
VERBAL GROUP CHILD CENTRIC DIARY (4 years onwards)
1) The diary is essentially divided into Main sections as below

  -DURING TREATMENT
–APPRECIATING THE TAILOR-MADE PATTERN COMING UP (to create a mirroring healing effect) 
  -ON THE PATH OF IMPROVEMENT,
  -POST HOMOEOPATHIC TREATMENT (to observe the individualistic healthy pattern coming up),
  -SWASTHYA ADVISES (Channelising various areas of child's life based on the unique holistic pattern).
2) Keeping in mind their strong and elaborate imaginative/fantasy world the diary has child-centric questions in different areas like Dreams, Fears/phobias, Drawing/doodling space, Natural activities and some more Artistic guided activities.
3) The Activity or questionnaire prompts are systematically and thoughtfully placed on a daily/weekly/monthly basis
4) Detailed focus on changes during ACUTE ILLNESSES can be noted in this diary for an effective, quicker and deeper recovery.
5) HIGHLIGHT of the diary: A special section dedicated to NEW NORMAL PANDEMIC situation: To Bring out the impact of this new normal space post the pandemic on the child's being.
A CASE WHERE
CHILD-CENTRIC DIARY
COMPLEMENTS THE HEALING JOURNEY!!
An 11year old girl visited Swasthya with complaints of Recurrent headaches, Recurrent Worms, Recurrent high fevers and Nightmares
THE CASE TAKING JOURNEY :
In the FIRST PART  of the case interview session when she was given an open ended space along with her physical complaints she described all her abstract sudden fearful imaginations and delusions like a scarecrow coming and killing her suddenly or pushing her suddenly, killing her parents etc
Further on when she was GUIDED to her subconscious areas of Dreams and Fears again similar almost Hypochondriacal sudden fear/Fright of something bad happening esp to her family or herself or around came up. Like she got a small injury since scarecrow pushing her suddenly and she dies, ghost pushed her on back and her whole back got burnt, she touches a teddy bear and it explodes due to bomb inside, she is a boat and suddenly a storm comes etc
Dr Dinesh used an ARTISTIC GUIDED APPROACH of STORYTELLING (A hobby mentioned by the girl) to guide her deeper into the Central Sensitivity of sudden frightful imaginations to understand it more completely and holistically.
Here the girl went on to describe this sudden fright with various imaginary examples of a jungle full of ghost and scare crows with sky becoming red and she is eaten up and she dies.
Based on the central pattern of sudden brutal frightful imaginations a homoeopathic remedy exactly matching to this central pattern was given which started the positive shift within her physical complaints and at all levels.
THE SWASTHYA CHILD CENTRIC DIARY JOURNEY:
Parallelly to accelerate the process of making her express and make herself see the pattern deeper and deeper a Child centric Designer diary was introduced and explained to her.
The individualistic suggestion in the diary was to make note of all her imaginations, fears, nightmares as completely as possible and as intensified as possible to make her stay close to her complete state and thus become gradually aware to create the healing potential.
Her Diary Content spoke about more detailed dreams, drawings that came to a  more clearer holistic pattern of fear and fright from sudden, unexpected attacks especially from things that otherwise looks harmless.
Due to her sincerity towards the diary space gradually she wrote a story with a HEALING EXPRESSION. The story goes that she is facing a water puddle and is seeing her reflection. She makes friendship with her reflection and this friendship helps in reducing all her fears.
The CHILD CENTRIC DIARY GIFTED not only a clearer pattern of the girl but also helped her come closer to the healing expression thus catalyzing the journey towards awareness of self and holistic health.