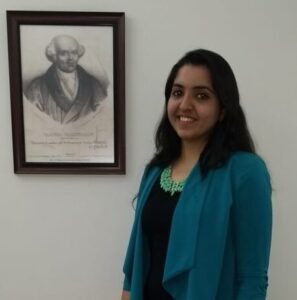 Dr.Vaibhavi Mehta graduated with B.H.M.S degree in 2017 from Pioneer Homeopathic Medical College and Hospital, Gujarat and then completed M.C.A.H (Masters Course in Advance Homeopathy) from The Other Song institute.
She is associated with Drs.Chauhan as a consultant at Swasthya Homeopathic Healing Healing since last 5 years and has her independent practice since last 1 year in Valsad and Dharampur, Gujarat.
She listens to her patients with utmost patience which helps them to open up at a deeper level.
Her warmth helps her to connect with patients of all ages and guide them smoothly through the healing journey with assurance and conviction.
She efficiently handles various acute patients at Swasthya
With her Artistic abilities, she puts across homoeopathic concepts on canvas.
Address:
Prajagar Homeopathic Healing,2nd floor, Kamla Niwas, Kamla Nehru road,Valsad-396001
Email id:
drvaibhavi.mehta@gmail.com