Swasthya Medicine Kit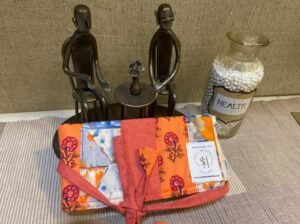 Swasthya has launched specially designed medicine kits for their patients.
These are eco-friendly, lightweight, easy-to-use, easy-to-maintain reusable kits designed to provide easy access to homoeopathic medicines, especially during acute conditions and travels.
SOME HIGHLIGHTS
1) There are various types of kits available at swasthya to cater the needs like
a) Family Medicine kit (Big size) b) Specialised Medicine kits [Tailor made kits,Travelling kits, Pediatric kit] (Small size)
2) The Big medicine kit contains set of 18 medicines selected out of years of experience covering the common variety of acute infections thus making the recovery hand, quick and effective.
3) The Small specialised kits have 6 medicines which are selected as per the individualistic need of the type of the kit. For Example, the travelling kit available at Swasthya will cover medicines for travel sickness, loose motions, high fevers, travel exhaustion, injuries etc.
QUALITY CHECK
1) The medicines are made with high-quality sourcing from International and Indian established Homoeopathic Pharmacies and are made by intricately trained pharmacists under experienced doctors.
2) The Hygiene and standardisation of the medicines is our prime concern and motto.
3) The kits are handmade with high-quality cloth material by A Women empowered organisation named – Thotpot Designs (https://thotpotdesigns.com/) thus adding social value to the product.
4) The Material used makes the kit lightweight, easy to use, easy to carry, easy to maintain and clean. The highly reusable eco-friendly fabric gives a long-term life, eco-conscious value and sustainability to the product.
CONTENTS OF THE KIT:
A) The Standard Medicines included in the Family kit are Arnica, Antim Tart, Antim Ars, Arsenic Alb, Bryonia, Belladonna, Chamomilla, Cina, Cocculus indicus, Dulcamara , Gelsemium , Hepar Sulph, Ipecac, Jasmine flora, Pulsatilla, Phosphorus, Rhustox , Nux vomica.
B) A special slot is allocated in all types of kit for SOS (The emergency constitutional dose given to each patient at Swasthya)
C) An Empty Dilution bottle is provided for easy-to-make SOS dilution or an acute remedy dilution as per the guidance of the homoeopathic doctor.
D) An informational pamphlet provided makes it easier to understand and make use of the
kit to its best possible capacity.
An Important Note:
Homoeopathic medicines are prescribed based on the individualistic totality of symptoms coming up in an individual so it is essential to be used under the guidance of experienced homoeopaths for effective and quicker healing.
So kindly connect with your concerned Homoeopath to select the best-suited remedy for the moment.
INFORMATION OF THE DIFFERENT KITS AT SWASTHYA:
FAMILY KIT: (Big Size)

This big kit has a set of 18 medicines covering wide range of infections and illnesses thus suiting the need of the homoeopathic family.
SPECIAL KITS AS BELOW: (Small size)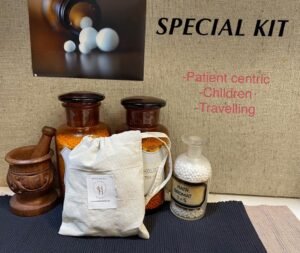 a) PEDIATRIC KIT:
A special curated kit with selective medicines used specially for children's cases and acutes out of years of experience and study.
b) TRAVELLING KIT:
This Kit covers a range of remedies suited for various kinds of travel sickness and travel- related illness possibilities thus helping the journey to become more effortless with homoeopathic remedies.
c) TAILOR-MADE KIT:
These are the most unique set of medicine kits available only at Swasthya Homoeopathic Healing and only for Swasthya Patients. The homoeopath personally selects specific sets of homoeopathic remedies as per patients constitutional design and needs.
CONTACT DETAILS :
www.swasthyahealing.com
swasthyaclinic5@gmail.com
+919920243727
For any queries or refilling regarding the medicine kit or remedies kindly connect with
the clinic pharmacy team at Swasthya Homoeopathic Healing.