The Inner Walk: Meeting with Myself.
At Kali Tiger reserve, Dandeli, Karnataka, January 2019
Indian forests have a homely feel to them. The healing walks through the paths of the forest almost feel like we are coming home.
Annually I design such one or two healing trails with my close group of students to
which makes you come back to your original space, your inner home.
Such inner walks helps to keep the internal balance of the driver (right brain) and navigator (left brain) of our Holistic vehicle.
It's beautiful to witness how through various right brain activities the different scattered parts of our being come together like a unique beaded necklace and surface out our holistic designs.
One such healing walk close to my heart was at Kali tiger reserve at Dandeli.
Its one of the dense forests in Karnataka which has the energy to effortlessly shut all the external layers literally and metaphorically ☺
Grab your comforting spot, take a deep relaxing breath and let's walk through the beauty of the Karnataka walk,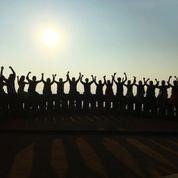 On the first day, First right brain method was to pen down,
If everything is according to your wish and an alien aircraft comes and can fulfill your wish what that would be?
Similarly if a genie comes what that one wish you want to be fulfilled in your life?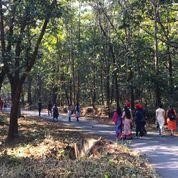 After the initial start we took up the activity of
A WALK: A pure and simple one-hour walk into Kulgi timber trails. A non-guided open walk into the unknown non-charted trails of the forest to silence the chaos of the mind and get in touch with the right brain expressions within.
All the participants wrote down their spontaneous thoughts, feelings and expressions unfiltered in their diaries post the walk.
That day later we were scheduled to go on a safari where black panthers were the main attractions.
We used this opportunity to tap our right brain spaces.
I suggested all of them to wish like a child what they wanted to see or perceive in the safari today and trust it from that child like imaginary right brain space.
In my diary I wrote my wish of seeing a black panther in my trip.
To my surprise and excitement I was the first one to see a black panther from my car during almost the end of my safari.
It thrilled me with the possibility that when we have deep child like spontaneous intentions universe does have its way to make it come true.
I trusted that wish deeply till the end of the day and the Black Panther was just an unexpected sudden sight while returning back.
A joyous moment, which cannot be contained within but cannot even be completely expressed without.
Then after coming back and refreshing us, the campfire atmosphere in the breezy winds made a perfect atmosphere for silent reflections.
We all wrote a postcard to ourselves almost as if we are writing and pouring our hearts to a long lost friend.
Being a winter climate in South India the fog was at its peak.
The activity just clicked in my mind like a flash in the moment standing amidst the morning hues: An activity of clearing the fog (confusion in your life)
I told them to sit with one tree that touches you the most and see what is that for which you want clarity to your life
What is that confusion you want to get rid of in your life?
We brain stormed on this question to come close to the mixed up lanes within.
Gradually we started walking deep into the forest and I guided them that as we are walking be alert on the thing or things that touches you the most.
Pick it up, collect it, click it or take a mental picture of it almost as if you are taking a photograph with your eyes.
Stay with it, intensely purely with trust for sometime till your being surfaces some spontaneous thought or a feeling or rather an answer. Make note of that answer and the
experience. It was amazing to see how diverse were the experiences and were getting beautifully placed in the thread of their experience pattern.
ACTIVITY 8
My own experience with the knee injury – with internal witnessing I wrote the experience of knee injury, which was an experience of a flower and a vision of my poetry too
I asked all of them to write an Inland letter to themselves mentioning about the experiences of all the activities they did in the past two days.
Keep writing the experiences nakedly without any logic or a thought or even an intention.
The Finale of the journey was to Integrate and find the unique holistic pattern through all the above right brain activities done.
Let me unfold here the experience of one of the participant who was a part of the walk and came in touch with his inner pattern.
The first page of his diary was as below
Then in activities of writing down a note on if given a chance, his postcard and in his inland letter,
When he could see all the expressions as a third observer he realized that now when I look back at what I wrote in my postcard, what picture I made in my diary, what I wrote when asked to write 'if given a chance, what I would love to do" and in my internal witnessing all these different right brain activities it beautifully integrates and is all making sense to me.
Even the tree, which is selected, which touched me to clear my confusion exactly spoke about my pattern and me.
I selected a tree which starts as one and then becomes two and then again it joins to become one. I feel the tree represents me.
I started with a desire to learn music and then I got divided and went into complete left brain sided journey of achieving, of getting a house, clinic and all about getting material things.
Being with that tree I realized the whole confusion that I have directed my life towards material gain.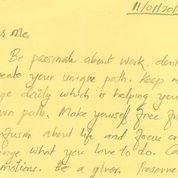 Retrospectively now I can acknowledge that the first picture I made of a hand looks like as if I am playing a harmonium
Then when I wrote about- if given a chance what I would do" I would have my own world where there are no rules and laws and would do what I love to do
I love to play harmonium and then I drew a harmonium.
Now I need to understand that I need to balance my life and my being with the activity I loved in childhood that is playing harmonium.
This way I will be able to be in touch with both my left driven worldly side and my right-sided creative energy within. A combination, which balances and bring the best possible output at every level.
At this point of realization I told him to hug this tree deep and feel its energy. To stay with it and absorb all it has to give in this moment of awareness.
So this way I gift myself , I read, walk for miles in nature, forest, mountains, at night, along the beach and keep writing in my designer diary.
I keep searching endlessly for my healing friend, the healing substance, my healing designer song, my mirror, my similimum field, it never crossed my mind that the field, song, mirror, remedy could be me.