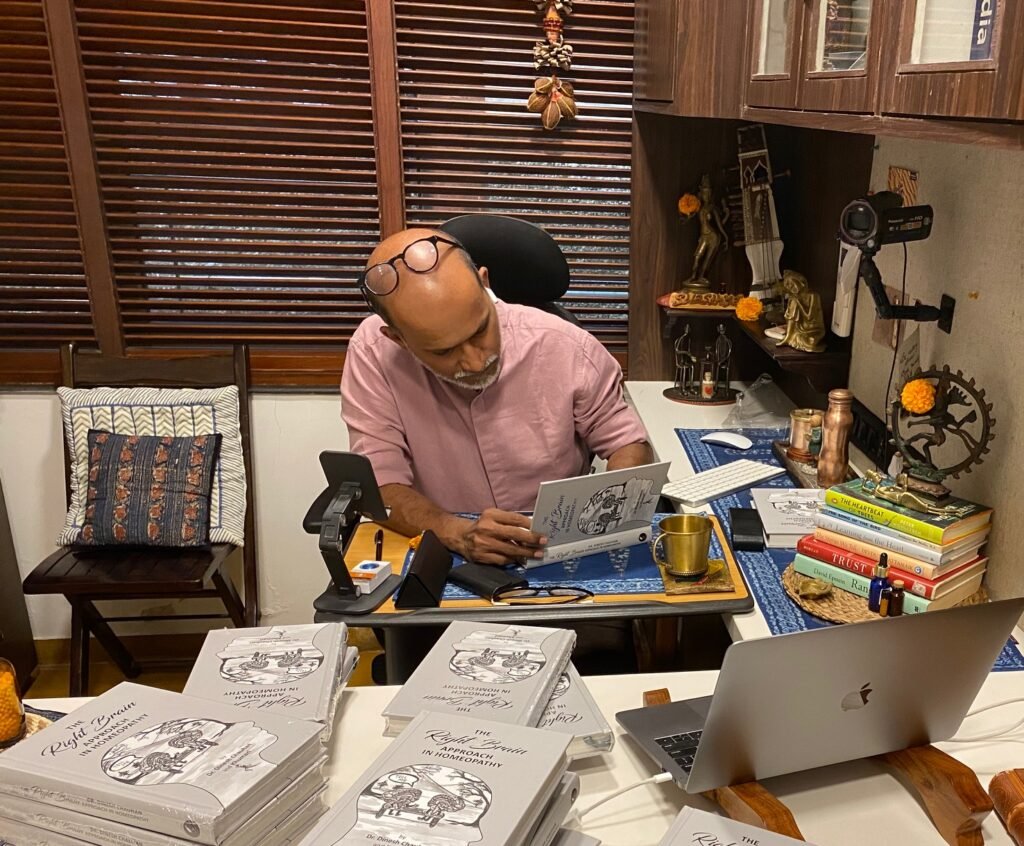 A message from Dr. Dinesh to the homeopaths located far and wide, of every school of thought, and persuasions:
In a two-dimensional world, there is cause and effect, there are questions and answers.
 In my book, Scientifically Intuitive Case Witnessing Process, I introduced you to a third dimension: a character that is trying to balance the black and white logical with the intuitive flow, the artistic or the right-brain flow. 
In the current book, "The Right Brain Approach in Homeopathy"
The Right Brain approach in homoeopathy  is a book which takes journey from my earlier work of Three steps of Integrative patient centric case witnessing,  to create a further foundational step during the case witnessing process, where people can safely……Read more….
The Right Brain Approach in Homeopathy
Author: Dr. Dinesh Chauhan and Khumari
Published by: Philosia Publications
Dimension (In Inches): 210×140 mm
Type :Hard Bound.
Pages: 330
(Inclusive of currency conversion charges)
Free Shipping Available Allover india and International !!
The Right Brain Approach in Homeopathy Book is Out!!! of Dr Dinesh Chauhan
RIGHT BRAIN APPROACH BOOK - IN AUSTRALIA!!
Grab your Copy from the Aurum Book Store
Dinesh Chauhan's new book 'The Right Brain Approach in Homeopathy' actually signifies a lot more than the title suggests. He has used his left brain very well to provide a structured and logical explanation of how a right brain approach enriches homeopathic practice and thus improves the results in treating patients. Beyond a brain in which left and right are harmonized, the book shows a deep love of homeopathy coming from a sincere dedication to the health and well-being of others. Dinesh tends to end any message he sends with the words 'deep healing hug.' Those words beautifully summarize this new book, a deep healing hug to all homeopaths and their patients. May many receive it.
'Come want to give you Hug ( this healing Hug almost felt came from similimum field and created lovely right brain space.) I saw your book in other song on Meghna cabin and had quick look, whole book design, structure have come we'll and I see lot of new methods, which I am sure will help homeopathy and homoeopaths.
Dinesh plays a magical game with a patient, extracting information from stories, myths, dreams, spontaneity… adding a fifth dimension to a two-dimensional case. This is truly wonderful.
Dinesh has a knack of taking us with him with much humor, reminding us that we can do as he does, developing skills we did not know we had, whereby to intuit information that may add depth to case synthesis, as well as explore and reveal the patient's core state".
i am deeply touched by your sensitivity, opening new doors, opening our eyes to look better in the heart and souls of our patients. God bless you for that and all you are doing to your patients and to further deepen homeopathic training in practitioners in ways that should become part of the normal teaching hopefully one day. Sending you my deep love and gratitude.
In this book that you are about to read, with a stroke of genius, Dr. Dinesh adds a creative twist on the scientifically intuitive case-witnessing process. For achieving the right-left balance he offers a menu of 14 different right-brain directed activities that can be used by both the practitioners and seekers of Homeopathy during their healing journey.
Dinesh with his cases clearly demonstrates that "walks is talk" practically, and above all from his heart. I am sure this book will be of both theoretical and practical use for any homeopathic practitioner"
Dr Dinesh uses the Right brain approach in human-centric cases which is truly an eyeopener. Having Dr. Dinesh's new book in your library will be very helpful in your practice.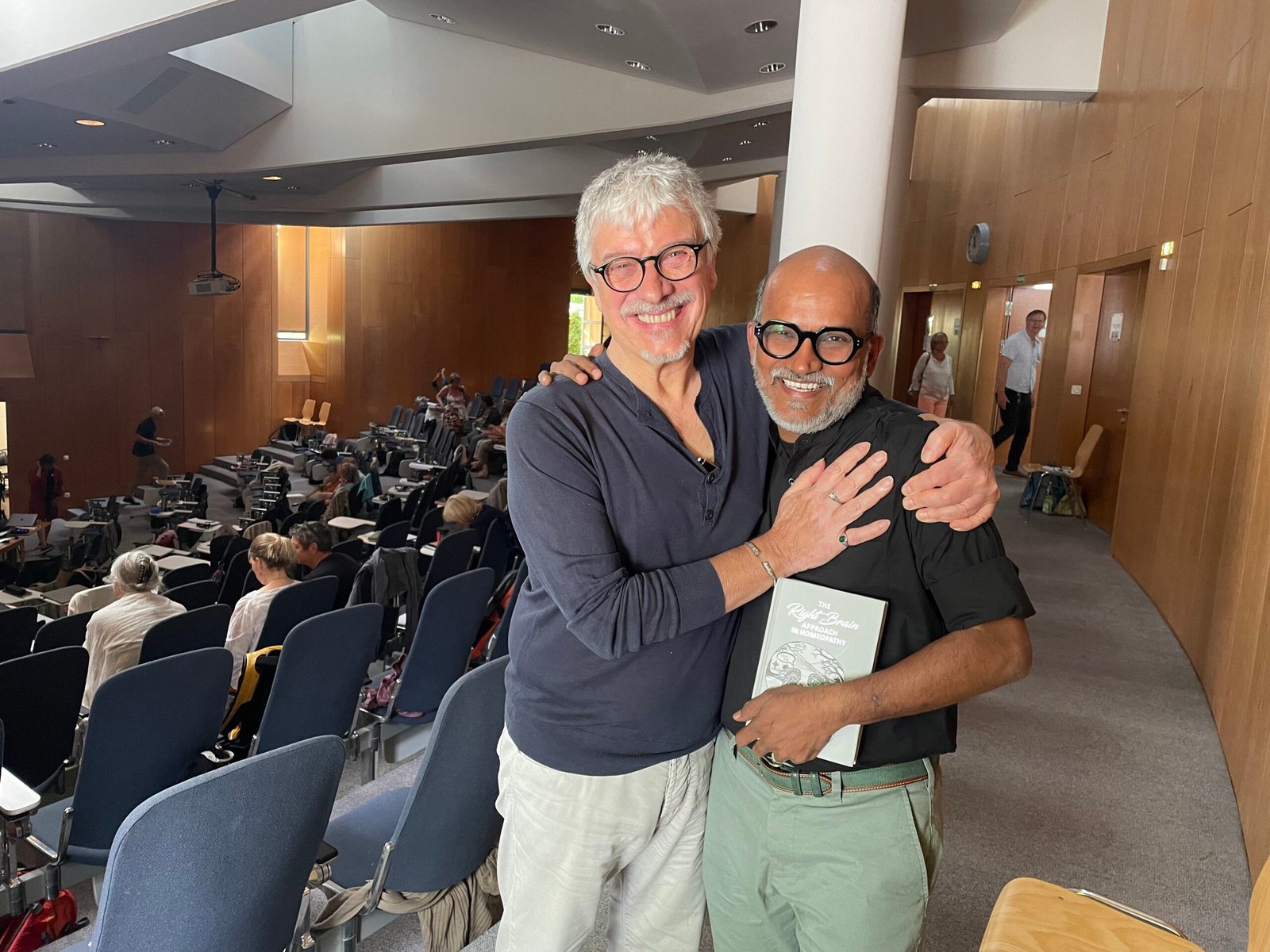 Massimo Mangialavori (Italy)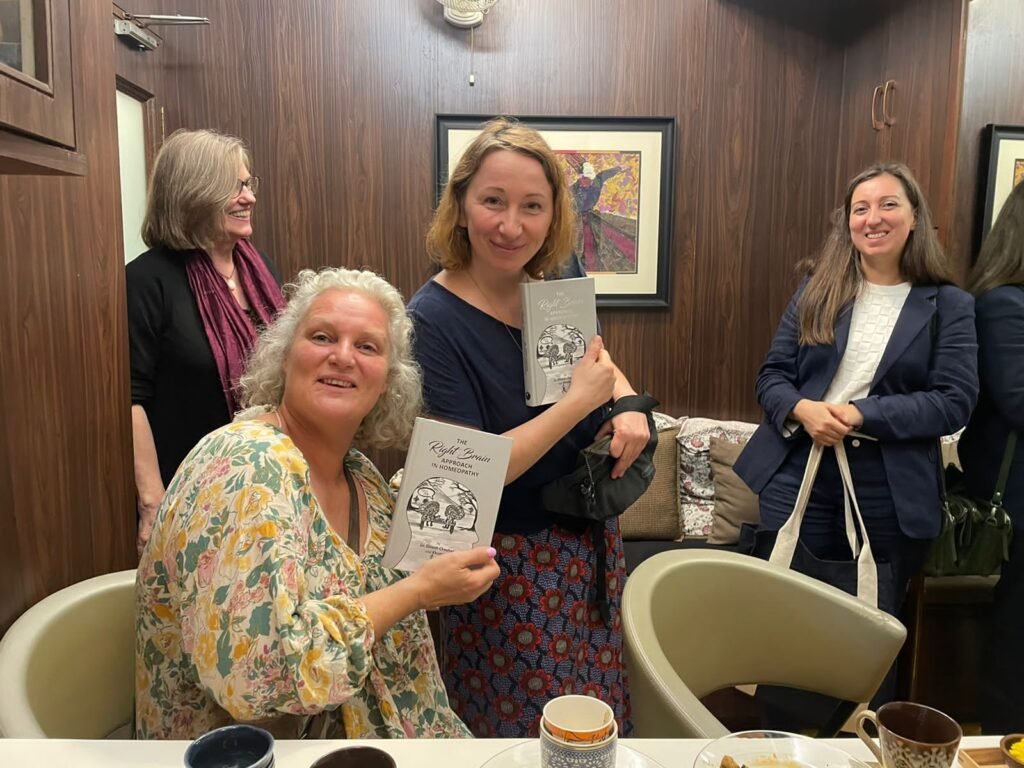 Gabrielle and Joanna from Australia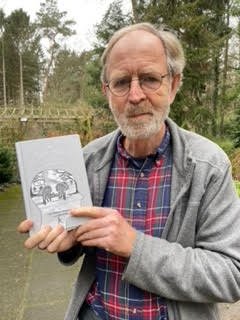 Harry Van Der Zee Ex-Editor of Links
Ariovaldo- Portuguese homoeopath and publisher of the Portugese version of 'The Scientifically Intuitive Case Witnessing Process'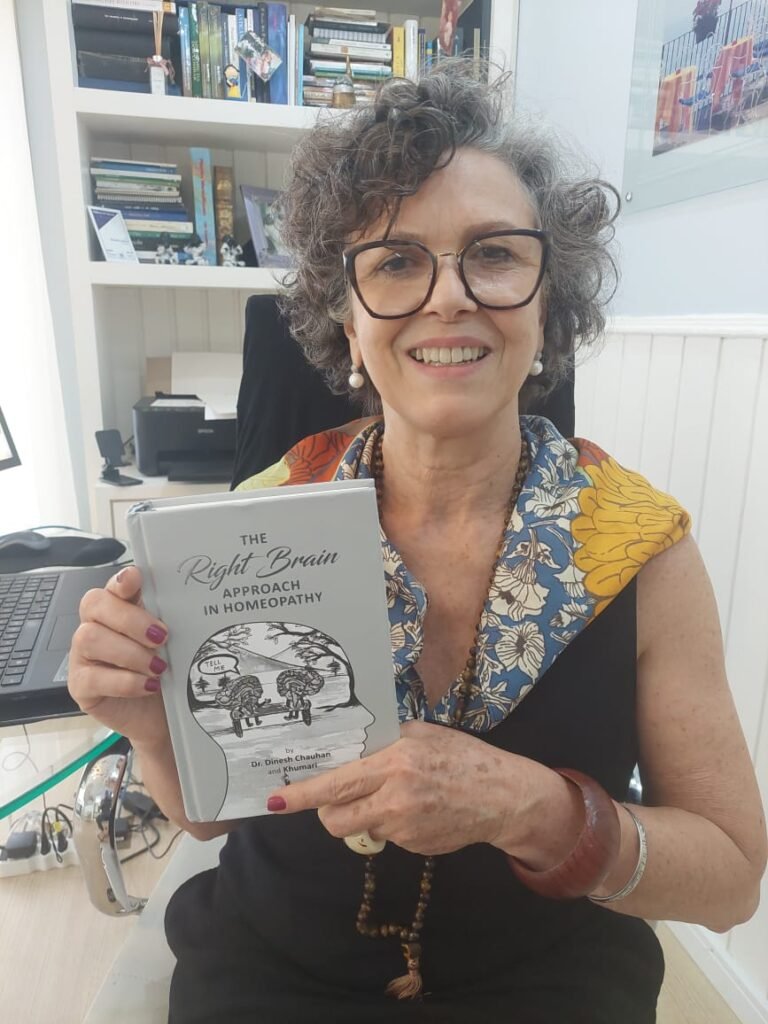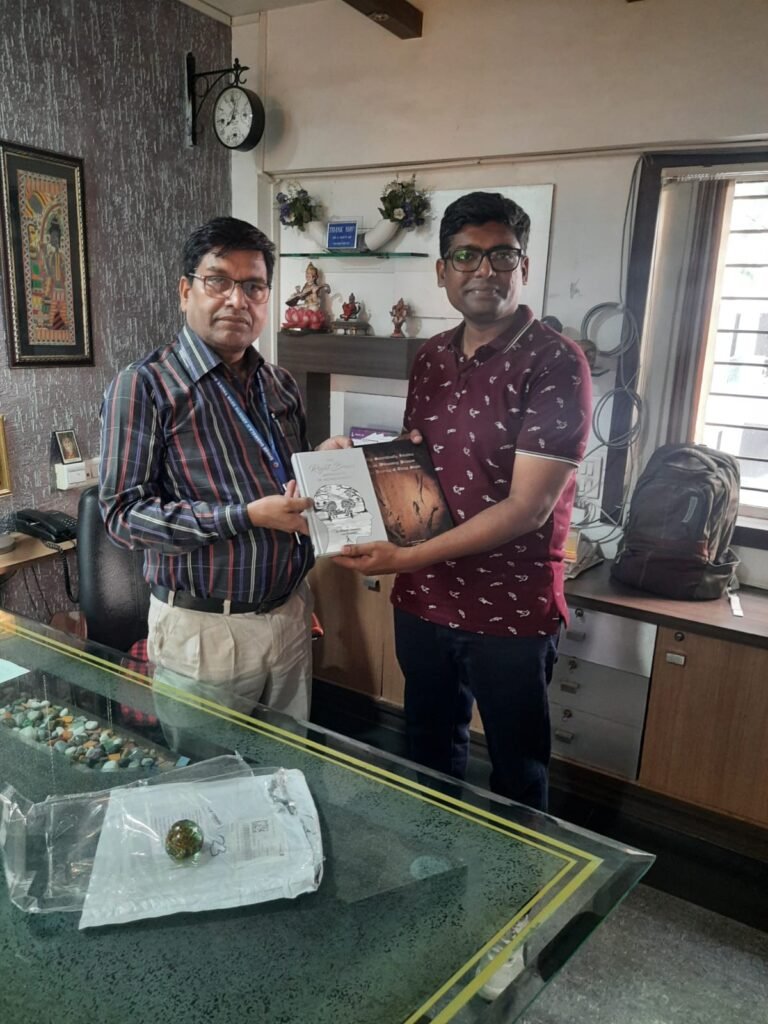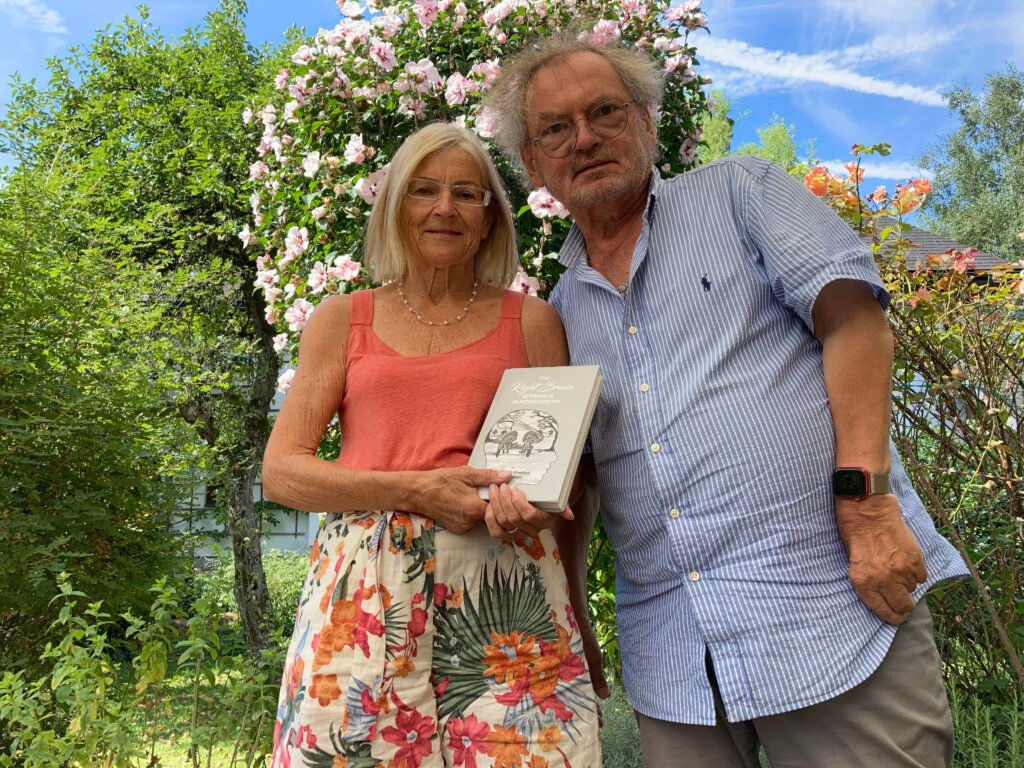 What a delight it is to delve into your meditations on the role of intuition, vision, imagination, and invitation in our work as healers. I feel your writing is in synchronicity with a felt movement in our profession to better integrate our diverse approaches to our work. in my recent case, it amazing to me that my patient intuitively knew that it was her deep inner experience that needed expression, not any analytical, "left-brain" commentary. Thanks for giving voice to this important insight! I look forward to reading the rest of the book!
I guess every homoeopath already had the experience where he feels the remedy is the right one for his patient. At that moment the head, the heart and the gut are aligned and tell you the same thing. The homoeopath just knows the remedy is the right one. It is a different and deeper knowing, it goes beyond logic and rational thinking. It is the right brain at work. At the same time, the patient feels completely understood by the homoeopath. Where the homoeopath and the patient meet, there lies the remedy. That's why this book is a huge contribution to homoeopathy. Dinesh Chauhan explores this meeting point meticulously and describes many pathways to reach this point. This book is a must-read for anybody as it serves both the homoeopath and the patient. It guides the homoeopath in finding the accurate remedy. It helps the patient to make a deep connection and understanding of his dis-eased state.
'Thank you Dr Dinesh Chauhan for coming up with this precious and very unique book, 'The Right Brain Approach in Homoeopathy' A gift to Humanity and Homoeopaths. Thank you Dr Vatsala for doing very informative Book Review, unfolding several aspects of the book. This is very helpful. Many Blessings and much Gratitude!
I've recommended the book to several other homeopaths, I can only hope to see your book in the hands of every homeopath out there.
Loving your book, the feel of it, the words, the style.
" KHAT KA Mazmoon Bhap liya , Lifafa dekh kr"
Thank you so much sir, for giving me this beautiful companion that I always keep with myself on my clinic table. Your DIY techniques are among the most innovative approaches to healing that I have come across that have helped me personally and as well as a homeopath. I feel it's a treasure for all homeopaths that will help them to heal everyone who will come across their journey
However I am excited to say I have received your book. Look forward to read and write my review of the book in my alone right brain space.
Right brain book taught me many things which is helping me personally as well as in my homoeopathy journey. 🧚‍♂️ Its rare where homoeopathic books mentions about DIY for homoeopaths themselves, this is one of the gem which has it !😇 (it mentions about different DIY techniques which homoeopaths can use for understanding themselves, their disease and their patterns) ✨ One of the DIY technique which touched me was the "profession method" where you beautifully suggested to create a natural vocational space for your own being in your clinic itself. 🙌🏼👌 Also, Its a book which mentions about exceptional right brain case taking techniques which no homoeopath has mentioned till date! 🤩 ( i loved it as one of my teacher said, " A case well taken is 80% of your healing done for your patient") Thank you sir for doing such scientific yet artistic work for homoeopathy. ✨✨
Dearest Dr.D, just received TheBook, thank you for this precious 🎁 gift & hardly waiting to start the journey of reading it
You are truly living your life from the heart Dinesh. (And the Right Brain!) It's it is a joy to have you in my life. Go well,
It is always said that homoeopathy is an art as well as science… We are very well aware of the science part..where we study the philosophy, the materia medica and the repertory…three pillars of homoeopathy….principles of homoeopathy which we call them as…. All this study about homoepathy is the left brain activity, the science part… What about the ART? This is where right brain approach comes into activity…and this book is all about… Where after putting in all the effort about knowing all about homoeopathy (left brain)…if we trust our feeling…the gut feeling (right brain)…our intuition (right brain) gets activated to guide us towards individualistic wholistic path…ofcourse driven by the left brain… Idea is to silence the left brain….only then right brain would come into play… Just like Buddha after tremendous learning (left brain) did not get anything…the moment he dropped everything he got enlightened. How often we get a feel about a patient as what remedy to give (right brain)…which never comes while repertorizing a case. But the reality is when we silence our left brain..when we drop all the knowledge…our right brain takes charge and then comes the intuition(right brain)…and suddenly remedy pops up….which is the perfect combination of right and left brain activity…what we call as science and art… Art part of homoeopathy is the right brain approach… How to silence the left brain?…so that intuition comes into play?… Well this is what this book is all about…it's a gem of a piece to develop intuition, gut feeling…perfect balance between right and left brain…a blend of art and science , art which depends upon science……SCIENTIFICALLY INTUITIVE WITNESSING as dinesh sir always says… Highly recommend this book if anyone wants to if anyone wants to know what that homoeopathy is an ART as well as SCIENCE.
Your presence is always inspirational and I have fond memories of sharing my doubts with you and you have so much been a part of my life. I hope I meet you often and take the dose of inspiration by being in your presence. Thank you and lots of love.
Your enthusiasm for wanting to go deeper and deeper to understand and to enlighten our community to help heal others in kind is the most inspiring concept for me. My initial thought! You are a very good man.
Homoeopathy is a peculiar scientific approach in itself. Dr Dinesh Chauhan (Mumbai) ( friendly known as Dinu) has art to understand Homoeopathy in his own scientific way. The book "The right brain approach" is an honest creation and written by my friend Dr.Dinesh Chauhan(Mumbai) who is a unique & excellent Homoeopath! Great sir! Keep it up! You are cultivating and nurturing lovely flowers on the rocks! A Must Read book for every Homoeopath!
The publication and the overall print quality of your new book is excellent. What good finishing, beautiful artwork, and crisp editing...
Dear Dinesh, I am very curious to read your book - 'The Right Brain Approach in Homoeopathy' - you are right, we do need a right brain approach to homeopathy, to balance our overly left - brain approach.
Thank you dearest Dinesh! Congratulations my friend. You inspire me with you devotion, intelligence, patience, wisdom and big generous heart ♥️ I can't wait to read and work with this book. I am so excited, I can't wait to start reading a practicing. Yo ur contribution is enormous Deep healing hug friend
Thank you Dr Dinesh for thinking about me You have grown spiritually as well as intellectually to a very good level May God bless you with more and more clarity into human nature and their h ealing I would love to read the book
Great new Dinesh...feels really so so nice Will be my pleasure to read and review
For me this book was a journey on how to reach this centre of the individual. and also how you show that this centre is expressed everywhere, we just need to be open to seeing it (further clarified today) I am very inspired by your case taking and what you refer to as giving the simillimum space. The methods you introduce in the book on how to create this simillimum space are fantastic. I also found the book wonderfully refreshing with regards to the simplicity of your approach. you do not need a phd to analyse your cases as the case taking gently follows the patient into their centre, revealing the simillimum without any heavy lifting. I am already looking forward to re-reading the book.
The Right Brain Approach in Homeopathy by Dr. Dinesh Chauhan – Reviewed by Vatsala Sperling
Dr Dinesh researched 17,000 cases from his practice with particular attention to unsuccessful cases, he explored everything he could about the brain, and its functions, and he came up with a way of understanding patients when we get stuck in the case taking process and have no clue how to proceed further for finding a simillimum.He found a path for getting un-stuck. Jeremy Sherr declares this to be an advanced level book of Dr. Dinesh's spectacular right brain methodologies..…….read more
Review by Barbara Lowry In American Homoeopathic Journal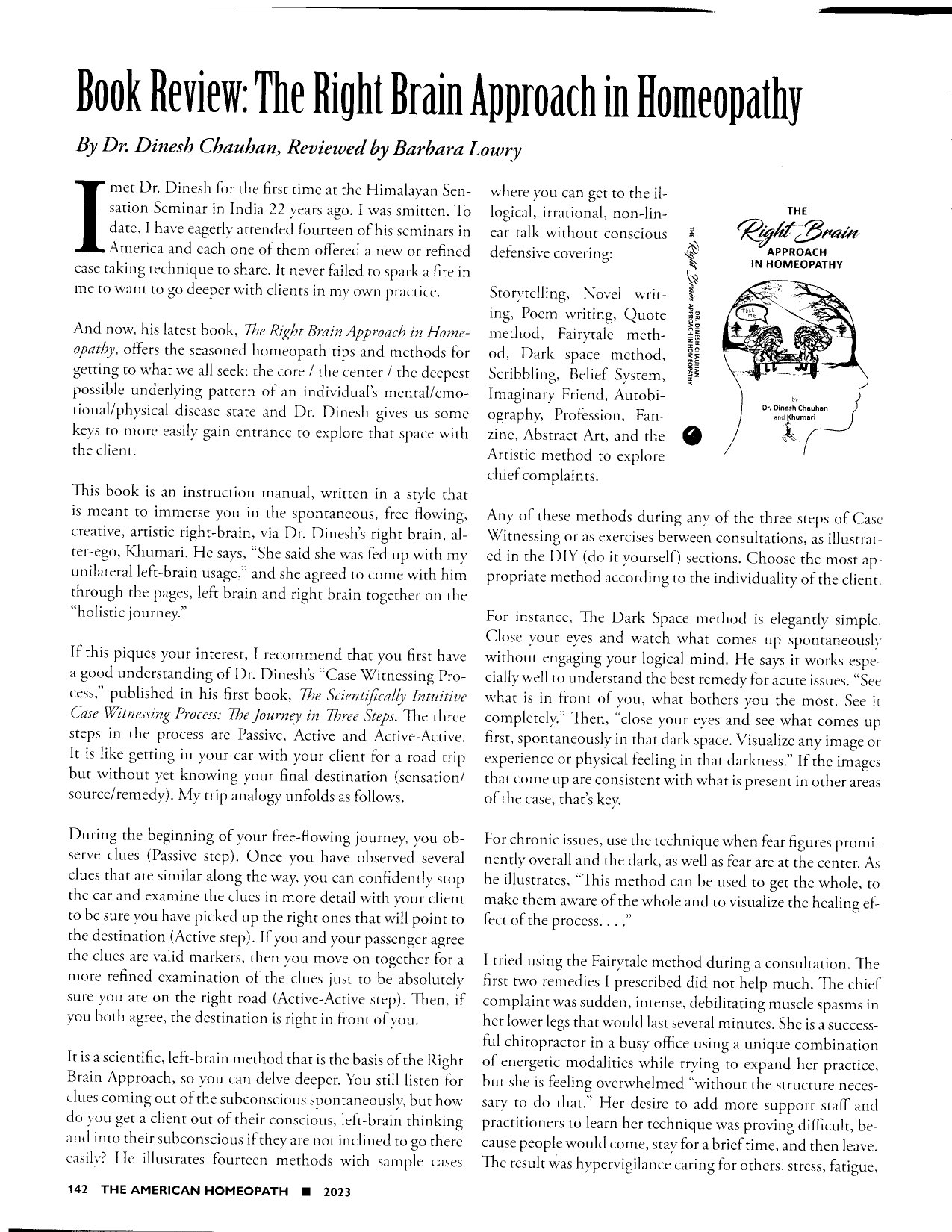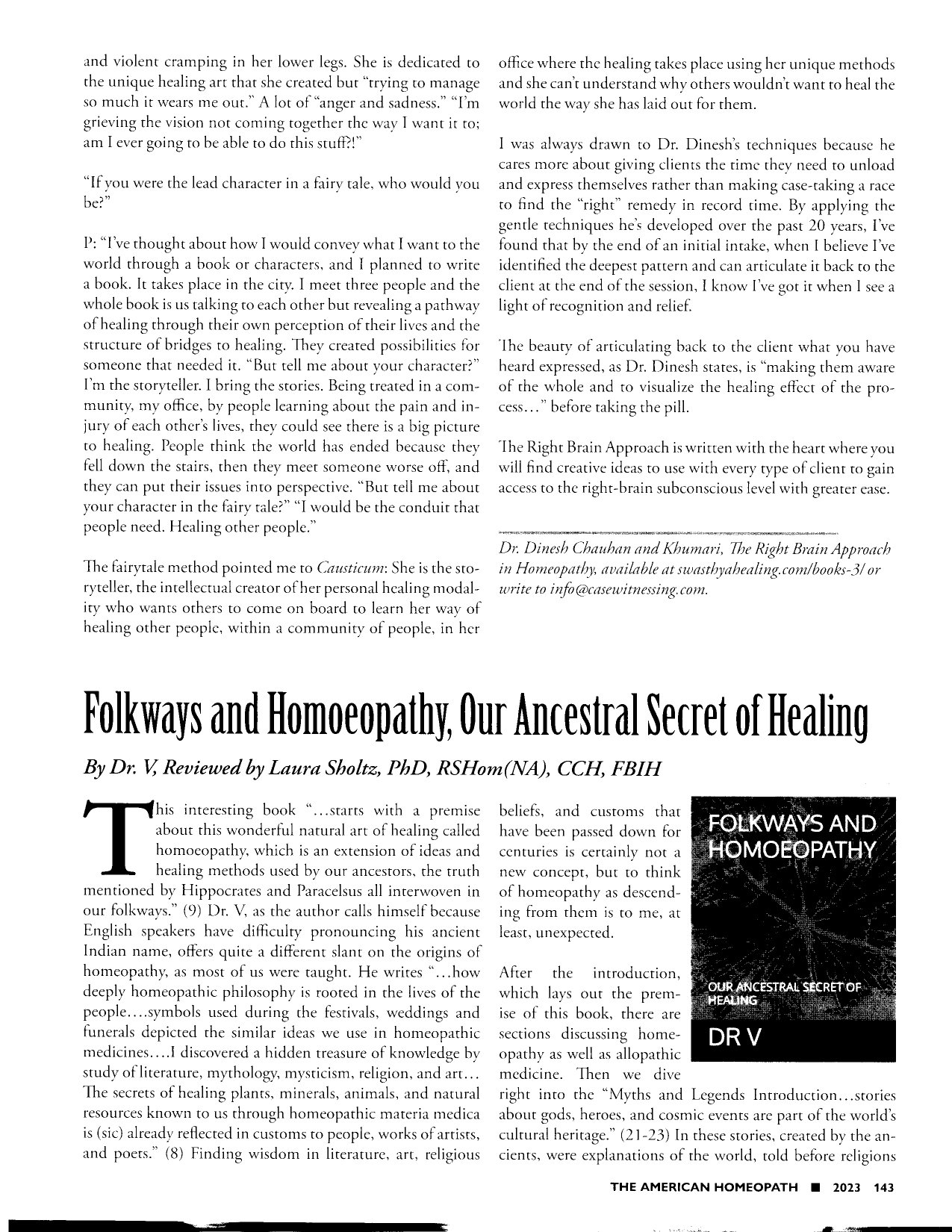 It has been a long time since I have learned so much about Homeopathy and casetaking/witnessing, in such a short time. The feeling I had after reading the book, was like in the early days of my education: wonder, amazement, bliss, enthusiasm, and inner joy. Because I was so triggered by the book, I started working with one of your techniques: The fairytale method. Great was my surprise!! Once I had written and appropriately titled my story, I had to look up only one (1) rubric in the repertory to find my constitutional remedy. I was even more surprised when I went to read the remedy by Vithoulkas, and found exactly 'my story' there… What a wonderful world! Where after 25 years of Homeopathy and various homeopaths it was not possible to find 'my' remedy, this now succeeded in half an hour. And all that by turning off my left brain… Thank you so much for your inspiration and your dedication.
For sure, the idea to focus on the Synthesis between left and right brain makes so much sense. Well done, especially your artistic and philosophical approach is very special in this book. The images are amazing and it brings one quickly into the importance of the right brain approach but also the need for combing both parts.
Dr. Dinesh Chauhan is Interviewed by Vatsala Sperling
Dr. Dinesh Chauhan is Interviewed by Dr Kavitha Kuknoor
Find Dr Kavitha's Interview and Review for the Book here
Kavitha Kukunoor, CCH, RS Hom (NA), C.HP, BHMS Nationally Board Certified Classical Homeopath President & CEO – Kavitha Holistic Approach, LLC Founder & Director – KHA Homeopathy Study Group Pro Bono
The Right Brain approach in homeopathy is a book born from years of thinking, deep personal experience, innovative experiments, and a lightning bolt of inspiration that guided Dr. Dinesh Chauhan to create a human-centric atmosphere during case witnessing process where people can safely let go of their left brain and heartily embrace their right brain expressions that are rooted in their non-logical, spontaneous, subconscious true and innermost core. 
In the day-to-day practice, the right brain approach to homeopathy has enabled Dr. Chauhan to create a brilliant twist in the scientifically intuitive case witnessing process and his numerous patients are the direct beneficiaries of such an evolution in his approach to case-witnessing and, as it turns out, the right-brain approach has become a truly integrative holistic method for understanding the core patterns of the patients at the deepest level. 
Using the right brain approach in homeopathy, Dr Dinesh has been able to solve cases that were governed predominantly by the left-brain aspects, in people belonging to certain professions, for example, homeopaths, psychologists, scientists, politicians and businessmen etc.  This innovative approach has changed the way we can perceive ourselves, our patients, and Life itself. 
This book is not just for homeopathy students and practitioners, but also for the patients. On reading this book, it becomes clear that by enabling our right brain aspects to express themselves, we are enabling ourselves to heal better, faster, deeper and heal fully.
The Co-author KHUMARI.....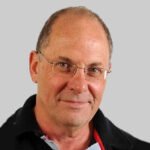 Though Dinesh and I have only met a few times, we have become good friends through common purpose and love of homoeopathy.
The concept of right and left brain in relation to homoeopathy is one that has spread in our profession's consciousness over the last years. These represent two types of thinking: precise data versus free associative thinking, linear versus circular, informative versus conceptual, hard work versus institutive leaps. Logic versus Magic. Sense versus Non-sense. Two approaches to solving cases. Combining this two-sided approach involves both sides of our being-brain and is called synthesis. The techniques we use for finding an appropriate remedy for our patient must reflect this goal. READ MORE …….
WORDS OF WISDOM BY MISHA NORLAND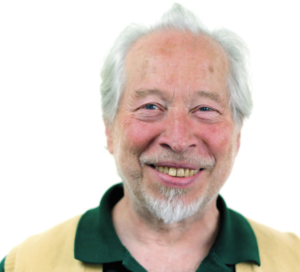 There is an interesting observation that children who do not learn to crawl (utilizing left and right sides of their bodies and limbs) but leap into walking (thus by-passing this developmental step) are more apt to be awkward at coordination and the mental equivalent of problem solving
– where left and right working together deliver best results. It is clearly vital to connect the two. Anima and animus working together are both equally necessary for psychological health. We who matured in animus dominated Western style academia, come to the anima later, but we can catch up. Better late than never! Dinesh keeps moving forward in his development and has a knack of taking us with him. He does this with much humor, reminding us that we can do as he does, developing skills we did not know we had, whereby to intuit information that may add depth to case synthesis, as well as explore and reveal the patient's core state.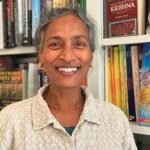 We, the modern people, are highly wired and weird simultaneously. Between the right-brain based creative ancestry and the left-brain dominated 'scientific' age when we live in our own electronic bubble, the divide is very great indeed. Dr. Dinesh Chauhan points out, based on his unique personal and clinical experience, that before it is too late, a balance must be struck between the left- and the right-brain aspects of our lives. But how? READ MORE…..
A Few Glimpse from the book......
A Wander With A Little Wonder
From Treating to transforming, Choose Homeopathy
The Scientifically Intuitive Case Witnessing Process