Mrs. U. M, age 62 years is a case of Lichen Planus. She had black raised patches over her hands, legs and neck areas with lot of itching. She was on modern medicines treatment for almost 6 to 7 years. Physically lot of other complaints like Asthma, burning in mouth, recurrent headaches were present. Her cholesterol levels were high upto 241 mg. With these complaints she had high anxiety levels emotionally
BEFORE TREATMENT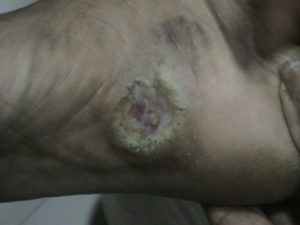 Patches were over legs, wrist area and neck. There were lot of cracks over the sole. Eruptions were with lot of burning and pains.
AFTER TREATMENT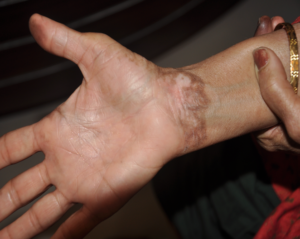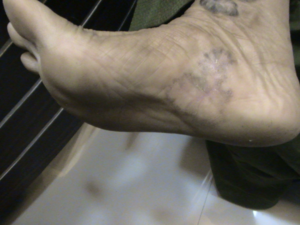 All the patches started regressing. They became flattened with decrease in itching. ¢There were no new patches coming up. Slight hypopigmentation in the area of patches was present which gradually faded away
OVERALL CHANGES: Being an over anxious patient she always used to look stressed. After treatment her anxiety and level of tensions reduced. Since the stress level was better, her cholesterol levels started lowering. Even her asthma started responding positively with all the changes. She was no more dependent on pumps. No more tension headaches.
HOLISTICALLY (STATEWISE): She could react and take decisions with a balanced mind and not out of fear or anxiety. Sleep issues due to tensions became better. She started having deep, peaceful sleep.